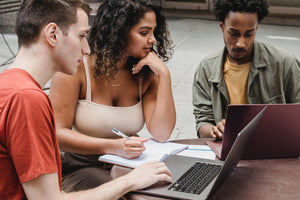 Who is this PlayBook Athlete I Keep Hearing About?
If you are one who regularly uses social media or keeps up with the latest trends; then there is no doubt that you have at least heard of PlayBook Athlete in some regard.  Let's be honest; unless you have outright socially distanced yourself from your phone, laptop, or technology as a whole; then this is you my friend! 
Perhaps you've made good on that New Years resolution and found yourself in the gym; or at least the parking lot.  Whether your membership will go unused until New Years 2023, or you're a buff that lives to GRIND, no matter where you land on the spectrum, THIS APPAREL IS FOR YOU!
A brand that prides itself on creating apparel for the everyday YOU, while creating a market for those that refuse to lose, PlayBook Athlete develops items that you are sure to love!  Stop by the store today and see the craze thats taking over down the street, and across the world!  PlayBook.store, this is #WhyIGrind
---