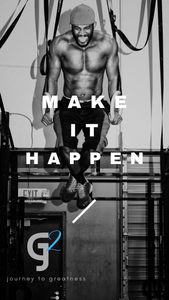 The Power of Why: Understanding the #WhyIGrind Movement
The #WhyIGrind movement is all about embracing your unique story and sharing it with the world. At PlayBook Athlete, we believe that everyone has a "why" that drives them to succeed, and we want to know what that "why" is for you. Whether you're an athlete pushing for the next level, a hardworking professional climbing the corporate ladder, a dedicated parent, or just someone who wants to chase their dreams - we want to hear about it.
The idea behind the #WhyIGrind movement is simple - when you know the answer to the question "why," you'll know that it's within you to carry on. It's about finding your purpose and unlocking your true potential. We believe that everyone has a unique story, and we want to help you share it.
The movement is not just about athletes, it's for everyone who wants to know their 'why'. Whether you wake up at 4am to work two jobs, put aside your own passions to support and chase the dreams of someone else, or run into harms way, defying all logic to save someone else - your story is powerful and we want to hear it!
That's why we're inviting you to join the #WhyIGrind movement today and share your story with us. We want to hear about your struggles, your achievements, and the reasons why you grind. Share your story on social media and tag us @playbookathlete and use the hashtags #WhyIGrind #grind #motivation #inspiration #liveyourbestlife.
We're also committed to providing you with the apparel and accessories to show off your story. Whether you're looking for trendy t-shirts, performance-enhancing supplements, or stylish accessories, we have everything you need to make a statement and elevate your brand.
Join the movement, share your story and shop now at PlayBook.store . Let's inspire each other and unlock our true potential.
---