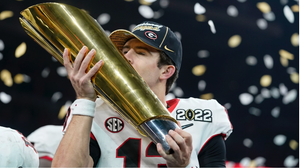 Georgia Quarterback Stetson Bennett - The Mailman Delivers Again!
Neither rain, sleet, hail, or snow can stop the mailman from delivering.  As it turns out, the Alabama defense was also not enough to stop the Mailman, Stetson Bennett from delivering the Georgia Bulldogs their first National Championship in over 40 years over the Alabama Crimson Tide.
It was 2016 when Stetson first landed on the radar of PlayBook Athlete.  Though he displayed refined position mechanics on the field, and carried unmatched academic success in the classroom, Stetson was not on the radar of the major programs across the nation.  Time to GRIND!  Grinding as the underdog from the beginning of his career, it was this same passion that Stetson channeled to ensure that the Bulldogs left with the championship trophy last night.  A prize fighter with a focus to excel and achieve, Stetson is not deterred by the haters and nay sayers…it's all fuel for his hustle!
America didn't know who Stetson Bennett was before, but there's no way they'll forget him now!  Stetson joins Trevor Lawrence and others in the ranks of former PlayBook Athletes to win a National Championship.  Who will be the next one?  #WhyIGrind
---