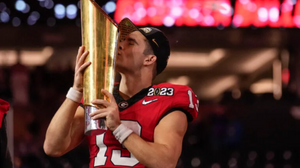 Stetson Bennett leads Georgia Bulldogs to National Championship Victory over TCU Horned Frogs
In a game that will go down in history, Stetson Bennett and the Georgia Bulldogs emerged victorious as National Champions, defeating the TCU Horned Frogs in a thrilling prime-time game. Bennett, who was relatively unknown when he first joined the Bulldogs, has cemented himself as one of the top quarterbacks in college football.
The road to the National Championship was not an easy one for Bennett. Despite his refined position mechanics and unmatched academic success, he was not highly recruited by major programs across the nation. But that didn't stop him from grinding, and using that chip on his shoulder as motivation to excel and achieve.
Bennett's efforts paid off as he lead his team to victory over the TCU Horned Frogs in a game that was a showcase of his talent and determination. With his performance on the field, Bennett has become a household name, joining the ranks of other PlayBook Athletes like Trevor Lawrence who have won a National Championship.
The #WhyIGrind movement is all about embracing your unique story and sharing it with the world. Stetson Bennett embodies that spirit, and his grit and determination serves as an inspiration to others. The PlayBook Athlete team is proud to have had a small part in his journey, and can't wait to see what the future holds for him.
It's clear that Bennett is just getting started, and there's no doubt that he will continue to make headlines in the years to come. With his talent and drive, the sky is the limit for Stetson Bennett. Who will be the next PlayBook Athlete to join him in the ranks of National Champions? Only time will tell, but one thing is certain: the #WhyIGrind movement is alive and well in college football.
Keywords: Stetson Bennett, National Championship, Georgia Bulldogs, TCU Horned Frogs, quarterback, college football, #WhyIGrind movement, PlayBook Athlete, motivation, determinationRegenerate response
---