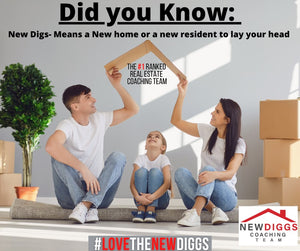 It's Here...The New Diggs
While they've already solidified themselves as a juggernaut in the real estate industry, Bernard Diggs and the New Diggs Team isn't satisfied with just that.  Determined to reshape the market and develop up-and-comers in the process; Diggs and his team are rolling out their new products for 2022.
New series and products for 2022: 
---7 Pillars of Realtor Success (7 Classes and Book coming soon)
--- REC90X (Real Estate Career in 90 Days) 
--- New Diggs Show LIVE Podcast Every Tuesday 
--- One & Done Success Plan 
--- One80 Success 
--- New Diggs: Building Wealth Through Real Estate
--- The KEY Summit 
Whether you're new to the game and looking for a reshuffle, or perhaps you're experienced and need a light polishing; no matter where you are in the game, the New Diggs Team is for you.  Follow the link and register NOW while space is still available!  
A proven process with life changing results.  Thank us later!
#WhyIGrind
---